This customers, who live in the town of Hyde, Greater Manchester, were in the process of replacing their kitchen furniture when they realised just how soiled their fantastic Yorkstone tiled floor had become after years without attention.
If you're not already familiar with Yorkstone, you may be interested to know it is a variety of Sandstone that is manufactured unsurprisingly in Yorkshire quarries since medieval times. It's known for its hard wearing and durable qualities, but no stone can be completely immune to dirt and staining built up over years of use.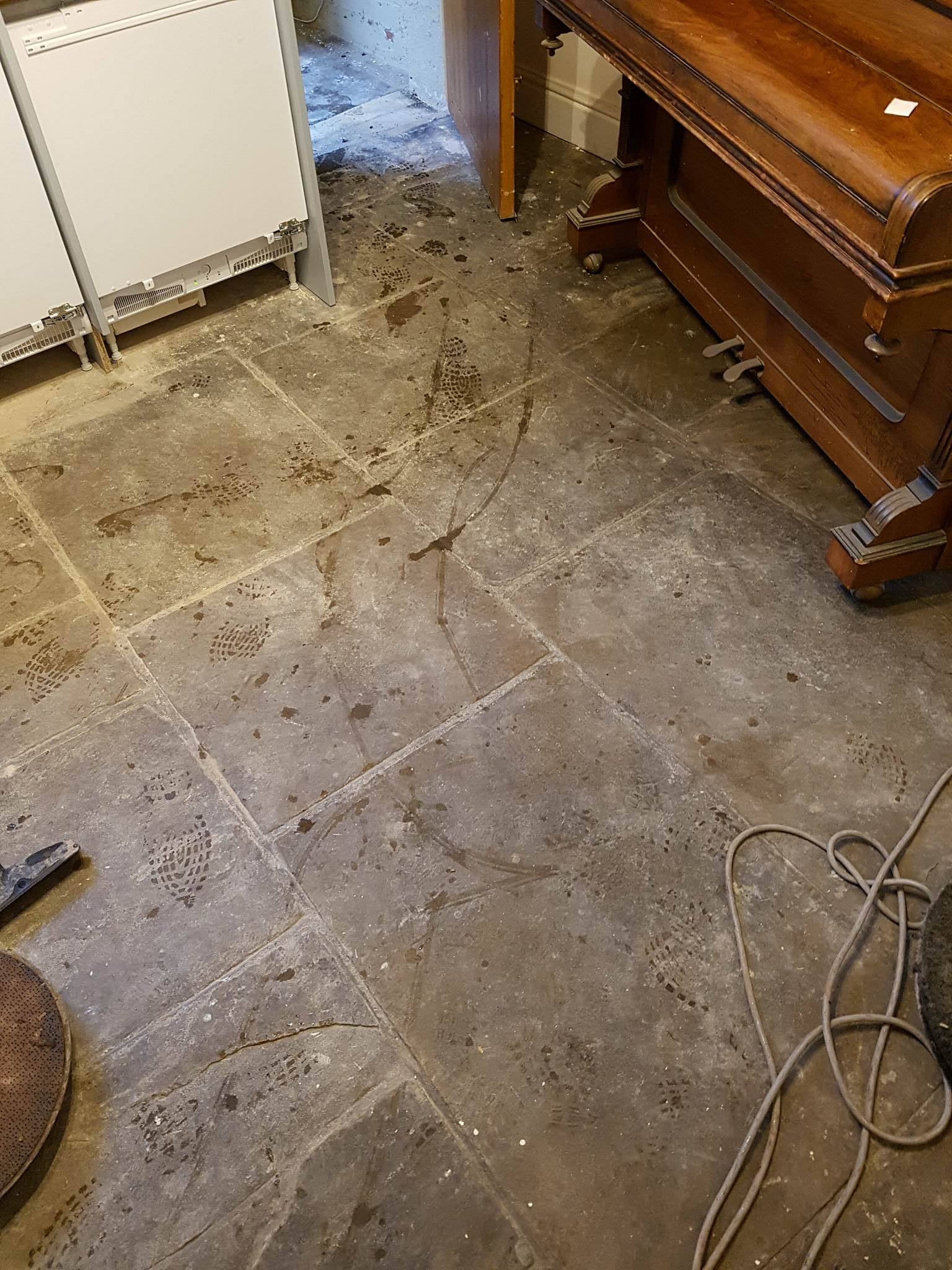 The customers were struggling for success with their own cleaning methods and supermarket products so they decided instead to see what a Tile Doctor could do to restore the floor. I was happy to oblige and on my first visit demonstrated what was possible by doing a test clean which the customers were very impressed with and booked me in straight away.
Cleaning a Soiled Yorkstone Tiled Floor
As a result of the test clean I knew I could get good results cleaning the floor using Tile Doctor Pro-Clean which is a heavy duty alkaline yet flexible cleaning product that can also can strip sealers from tiles when used in a strong dilution. In this case a strong dilution was exactly what I needed and it was applied liberally across the floor, and left it to dwell and soak into the stone for about ten minutes. I followed this by scrubbing it into the stone with black scrubbing pad fitted to rotary machine, successfully eradicating the thick layers of muck and any remaining sealers in the process.
After scrubbing the entire floor, I extracted all the now soiled cleaning solution using a wet vacuum and then spot treated any areas that looked like they needed more work. On the whole, the cleaning process was a success, however, in one corner I discovered a thick tar stain that had been there for years. As the tar was solid as a rock I decided to apply an even stronger product to shift it. Fortunately, I have a number of products that I can use and in this case I was able to deal with it by applying Tile Doctor Nano Tech HBU, which is our heavy soil build-up remover. After application, it was left it to dwell for half an hour and then with the aid of a steamer and black scrubbing pad to soften the build-up even more I managed to remote it entirely.
Once I was happy with the condition of the flagstones and grout I gave the floor a thorough rinse with water, this was to ensure any trace of cleaning product was removed before sealing again the wet vacuum was used to remove the water from the floor and get the stone as dry as possible. The floor was then left to dry for 48 hours after cleaning.
Sealing a Yorkstone Tiled Floor
When I returned the the property two days later I promptly ran some damp tests all over floor and discovered a few minor issues. I solved these with heat gun and the floor was then ready for sealing.
To seal the Yorkstone tiles, I used Tile Doctor Seal & Go, which is topical water-based blend of acrylic polymers designed to provide durable surface protection and a low sheen finish. As a topical sealer (which sits as a protective barrier on the surface of the tiles) Seal & Go makes cleaning the floor much easier.
I used four coats of the sealer, allowing for a 30 minute drying period between coats. As you can see from the photograph the result was truly fantastic! The customers were extremely pleased with the result and told me that they never knew there was such a lovely floor hiding underneath the muck. They also said that I saved them a lot of money and preserved the character of house because they now no longer feel compelled to replace the floor!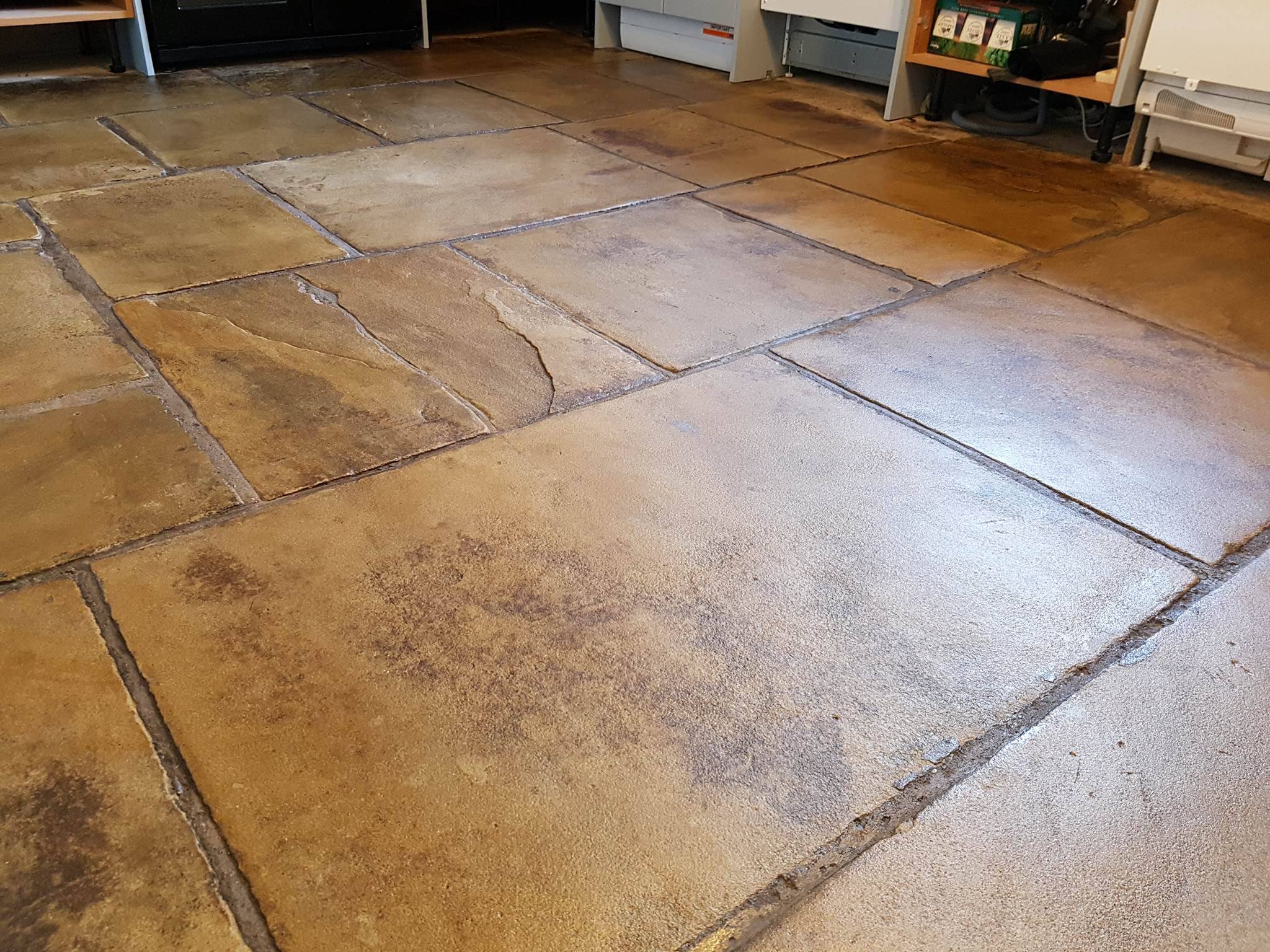 Deep Cleaning a Heavily Soiled Yorkstone Tiled Kitchen Floor in Greater Manchester
Heavily Soiled Yorkstone Tiled Floor Cleaned & Sealed in Hyde