This Travertine tiled kitchen floor had been laid around five years previously in a house in Didsbury and now most of the sealer had worn down making the floor difficult to clean effectively. This resulted in the tiles looking continually dirty and a few of the tiles had cracked which you can see in the photograph below.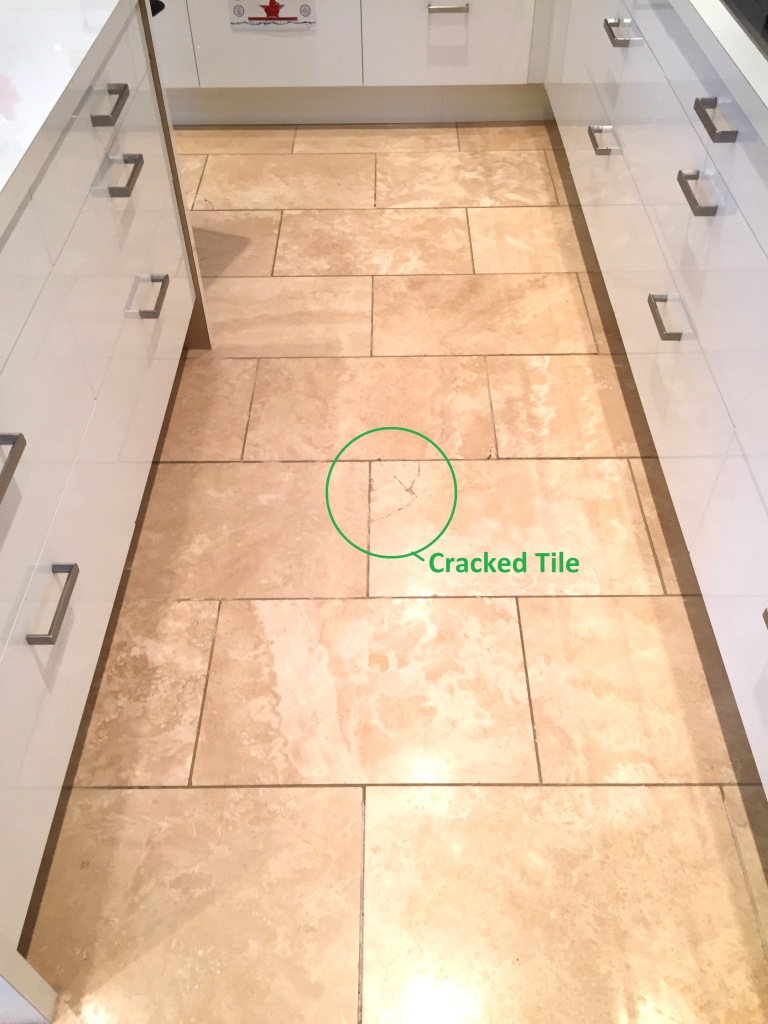 Maintaining Travertine Tiles
To start off with i scrubbed Tile Doctor Pro-Clean into all the grout lines with a stiff brush in order to get them as clean as possible followed by a rinse with water which was extracted using a wet vacuum.
The next step was to strip the Travertine of any remaining sealer and dirt using a set of four Diamond encrusted burnishing pads which come in a number of grades and are applied from coarse to extra fine with a little water to help lubricate.
I used the first three pads from coarse to fine rinsing between each pad to restore the polished finish of the stone but stopped before applying the final pad so I could fill all the cracked tiles with a resin filler in a matching shade. Once the filler had dried I gave the floor a final polish with the fourth extra fine burnishing pad and gave the floor a final rinse at the end to make sure the floor was clean before sealing.
Sealing Travertine Tiles
Once the floor was dry it was sealed using a couple of coats of Tile Doctor Colour Grow which is an impregnating sealer that occupies the pores in the stone so dirt cannot become ingrained there. This particular sealer also enhances the natural colours in the stone.
After the final polish and sealing the cracked areas had blended in very nicely and the customer was very pleased with the overall result.


Repairing and Maintaining Travertine Floor Tiles in Greater Manchester
Cracked Travertine Tiled Kitchen Floor Maintained in Didsbury