The pictures below are of a White Ceramic tiled shower cubicle at a property in Romiley that was installed twelve years prior. The home owner had cleaned it regularly with household cleaning products but were unable to improve the dirty and mouldy grout and the silicone seal around the edges.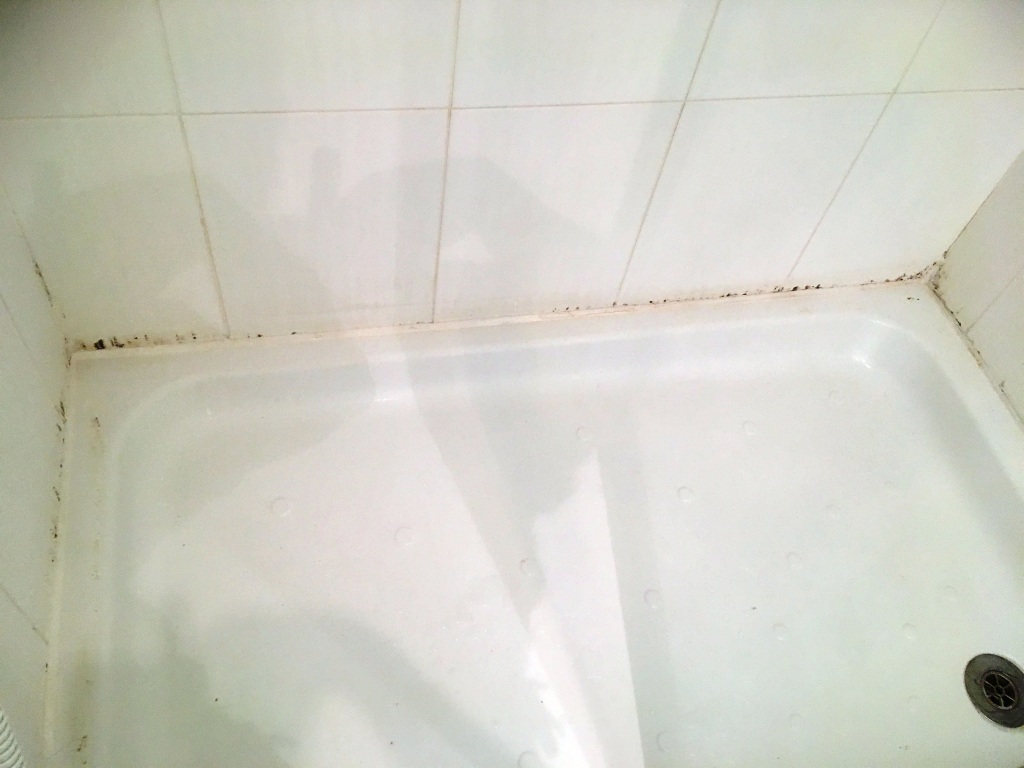 The owner was most concerned about the discolouration of the grout and had never been happy with the silicone sealant between the shower tray and tiles which had been poorly applied and for the most part smeared over 3cm up and down over where the bead should be.
I visited the property and recommended that the best course of action would be to apply a White Grout Colourant over the grout which would seal the grout in and protect it from further staining as well as making it much easier to clean. Grout is cementous and as such its rough surface easily traps dirt as well as making it easier for mould to take a hold.
A few miles east of Stockport Romiley was for centuries an agricultural area, until the late Victorian era when it grew into the popular residential area it is today.
Renovating a Ceramic Tiled Shower Room
I started by cleaning the grout using the Tile Doctor Pre-Treater which comes with the Tile Doctor Grout Colouring Kit, I also made use of a professional steamer with a special grout cleaning attachment to get the grout as clean as it could be. The Tile Doctor Pre-Treater is also slightly acidic, so it etches the surface of the grout to improve the bond with the grout colourant. I rinsed the shower wall with water to remove the soiling and then dried it with a soft cloth and heat gun. The White Grout Colourant was applied using a small brush, taking care to wipe off the excess from the surface of the adjacent tile as I went.
Sealing a Ceramic Tile Shower Room
Whilst waiting for the Tile Doctor Grout Colourant to dry I started to carefully strip away the old silicone using a sharp Stanley knife and scraper. This is a slow job and you have to be careful not to damage the shower tray or the tiles with the blade. The old sealer was smeared all over as you can see in the pictures- so it took me two hours of scraping to remove all the sealant.
They really had made a poor job of applying the seal. The ceramic tiles were slightly textured which didn't help. Once that was cleaned off and replaced with new silicone the bathroom looked transformed. The silicon just needed to dry for 24 hours before they could start using the shower again.
My customer was very happy. As you can see from the pictures the shower room now looks clean and tidy and like new.
Professional Restoration of a Ceramic Tiled Shower room in Greater Manchester
Cleaning a Ceramic Tiled Shower Room in Romiley