This property in Hattersley had just undergone major building works which had lasted for couple of years. During that time the Sandstone tiled living room floor had suffered greatly during the building works.
Additionally, the sealer previously used on the floor was a clear impregnating product which did nothing to bring out any natural colours in the Sandstone, leaving them dull and lifeless. The situation had been made worse but the building work mess, and the property owners were keen to get their local Tile Doctor in to resolve the problems.
Cleaning a Dull and Dirty Sandstone Tiled Floor
For the cleaning process, I used a strong dilution of Tile Doctor Pro Clean, which is our strong alkaline flexible cleaner meant for heavy duty cleaning and when used in more concentrated form for the stripping away of old sealers. I applied a strong dilution of Pro Clean across the floor and left it to dwell for about ten to fifteen minutes so it could work its magic on the layers of dirt and old sealer.
I followed this by getting on my knees and scrubbing the product into the stone with a stiff scrubbing brush. In this particular scenario, there wasn't much that could be done with a rotary machine as the floor was very rough in texture and with a scrubbing brush it was much easier to reach the ingrained dirt.
After scrubbing, I removed all of the dirty cleaning solution with a wet vacuum, before rising the floor several times with clean water to get rid of all chemicals. With the cleaning process a success, it was time to leave the floor to dry for 48 hours before sealing.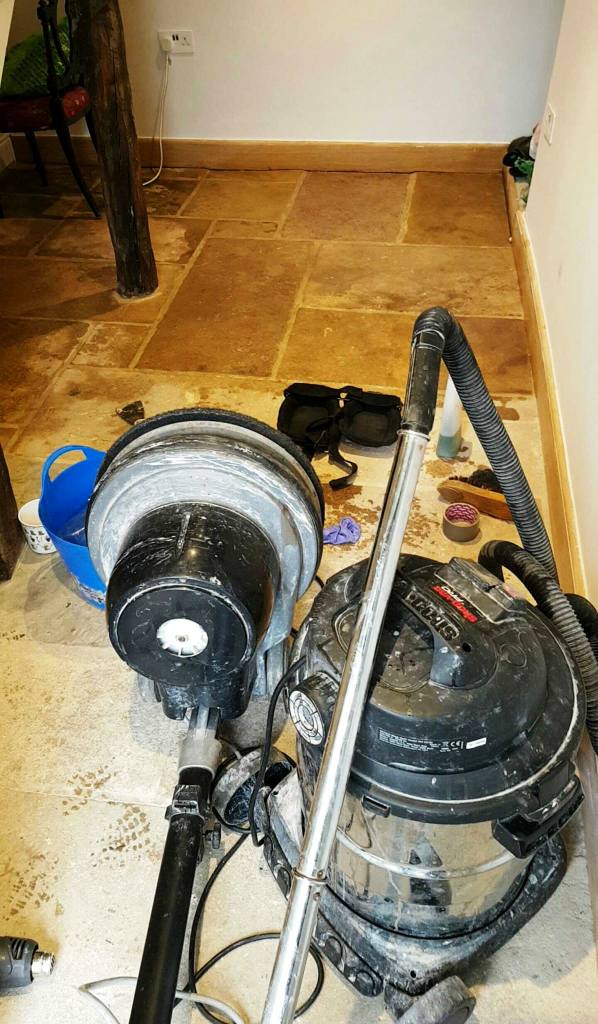 Sealing a Sandstone Tiled Floor
When I returned two days later to seal the tiles I started by using my damp tester to check for moisture that could affect the performance of sealer. Even the smallest quantity quantity of moisture can cloud the sealer and reduce its effectiveness.
Once satisfied that the floor was completely dry, I started sealing. I chose to use a topical Tile Doctor sealer called Seal & Go, which is a water based blend of acrylic polymers that is recommended for this type of stone providing stain resistance whilst enhancing the look of the tiles and providing an aesthetically pleasing low sheen finish.
I applied four coats of the sealer and the transformation was complete. I think the result speaks to itself, especially when you look at the before and after photos.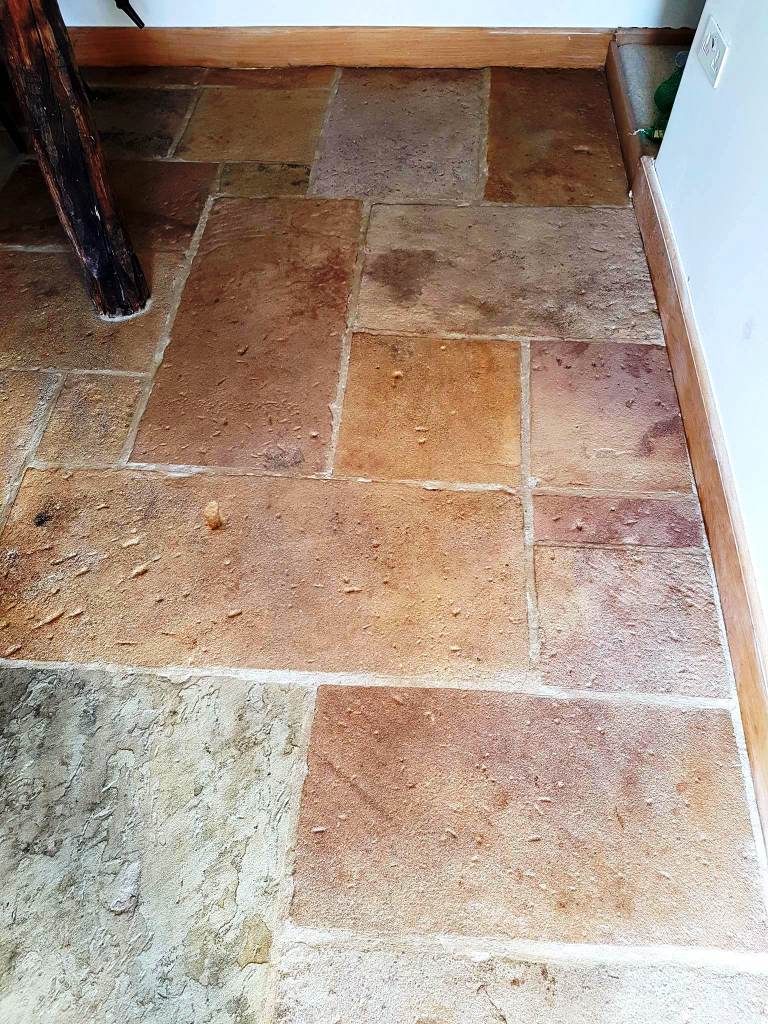 After completing the work, I left the very happy customers with a complimentary bottle of Tile Doctor Neutral Tile Cleaner to help them make sure future cleaning and maintenance is done correctly.
The customers were really pleased with the transformation in their floor and were good enough to leave the following feedback on the Tile Doctor website:
"Tony was very professional and did a great job on our Sandstone floor. We are really pleased with the results."


Professional Sandstone Floor Restoration in Greater Manchester