This client in Romiley on the outskirts of Stockport was unhappy with the state of the grout in her bathroom and was looking to have it removed and replaced. This was complicated by the fact that the ceramic tiled floor had electric underfloor heating installed (UFH). Removing grout is an intensive process and there is a big risk of causing damage to the heating elements during the process.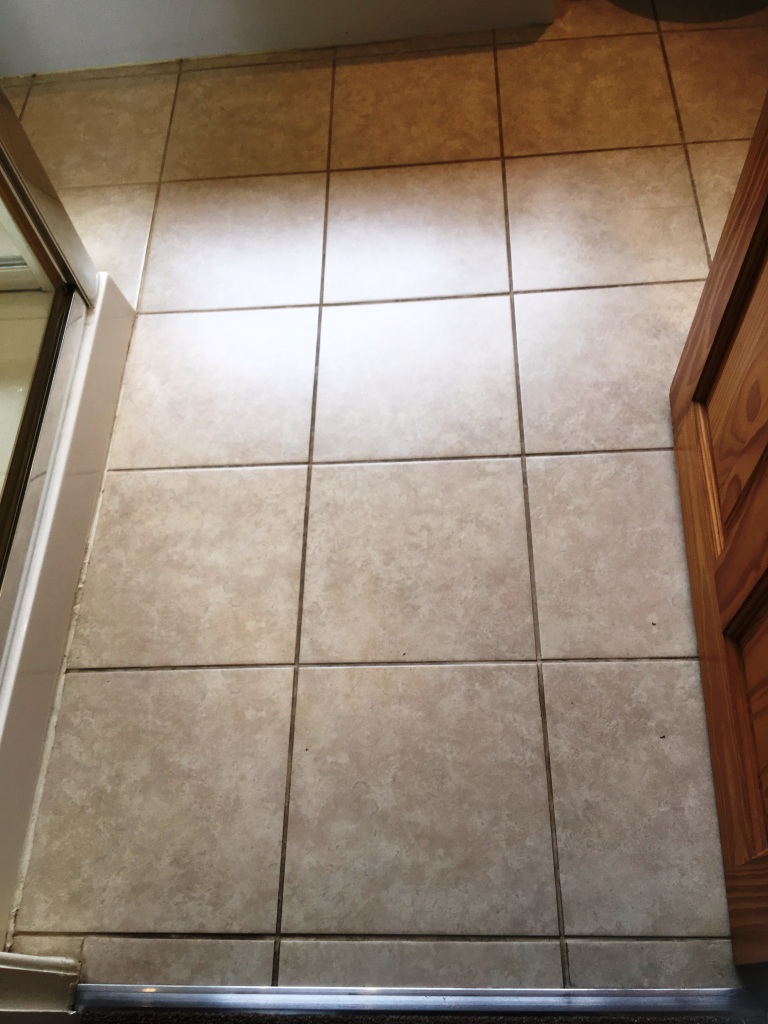 My solution to the problem was to give the grout a deep clean and then colour it. Grout colouring is by far the easiest and safest way to restore grout as it is applied to the surface of the existing grout without the need to use any invasive process to remove the grout first. There are a variety of colours available so we can get the floor restored to its original look quite easily. I discussed with the client what we needed to do, and we agreed a price for the work to be completed.
Renovating Bathroom Floor Tile Grout
The process I used was to apply Tile Doctor Grout Clean-up to the tiles and the grout and then scrub it in. This is an acidic product that cleans up grout and removes any mineral deposits and hard water marks on the tiles. Being an acidic product, it also etches the surface of the grout providing a better bond for the colourant to adhere to. The floor was then rinsed with water, and a steamer used to get as much of the staining out of the grout as possible. The soiled water was removed with the wet vacuum to minimise the mess.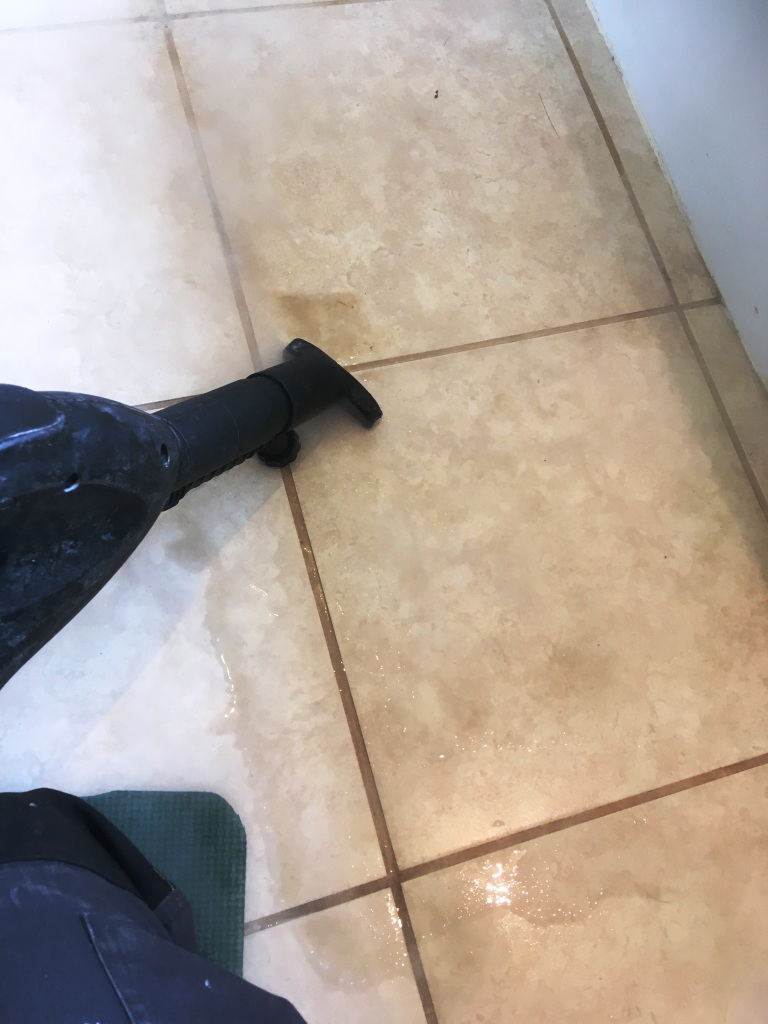 The tile and grout were then speed dried with an air mover whilst I went for lunch. This would ensure the floor would be ready for the colourant to be applied by the time I returned.
Colouring Grout in a Ceramic Tiled Bathroom
When I came back an hour or so later, I checked the grout was dry with the moisture meter before proceeding to apply the colourant. It was a small bathroom so only one bottle of Tile Doctor Limestone Grout Colourant Kit was needed we chose Limestone as this colour matched the tiles quite closely. The colourant is carefully applied with a small brush, and any residue is wiped off the tiles as we go.
The client was very happy with the results and with the colourant forming a barrier over the grout it will prove much easier to clean and will stay looking good for quite some time to come. The process was quick and straight forward and as you can see from the picture below the tiled floor looked a lot more inviting once the work had been completed.
Professional Restoration of a Ceramic Tiled Bathroom in Greater Manchester
Bathroom Floor Tile Grout Renovation in Romiley